Longer tool lifespans and less machine downtime for lathes and milling machines
The problem with plastic hoses:
Elevated coolant pressures cannot be achieved
The position can be adjusted by vibration and chips
The cooling is not reliable and targeted
The problem with curved copper or steel pipes:
Long rust/setup/bending times
No nozzle technology
Cannot be reproduced
System
The compact spherical screw caps with a seal ring and 3-point support are available in three diameters. The components that are available make individual adjustment to any machine type possible. We would be pleased to put together an individual set for your machine.
Advantages of BESTDO

System sizes
Our system is available in three flow volumes and enables the precise configuration and fixation of the coolant flow at the desired point.
   6mm ID Best-1

10mm ID Best-2

14mm ID Best-3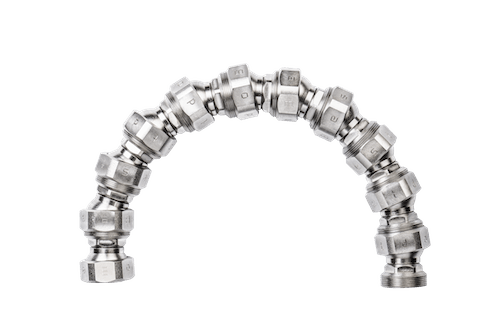 Solution
BESTDO cooling supply system made of metal
Erhalten Sie die neusten Informationen und Branchentrends direkt per E-Mail!
Jetzt zum Newsletter anmelden.